It's a rising prestige project.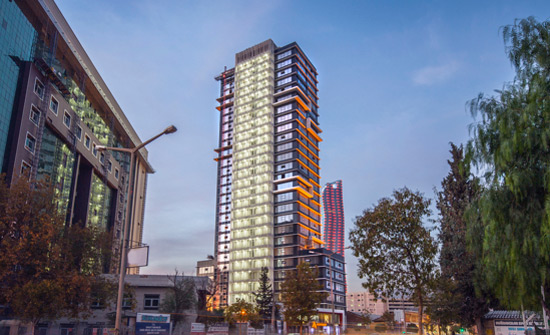 Every step to be taken in Izmir, the city of firsts, which hosted numerous civilizations in history, should have been worth it. Not only to develop a modern and innovative project that will make a name for itself, but also to set the reputation of Izmir business world one step further. We just took the best. Because; Our goal was to do the best for Izmir. Signing a pioneering project in the city of pioneers ...
Work machine, not the work center!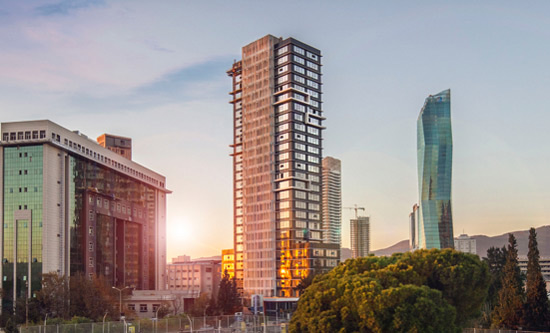 In Atertower, all the details that will make your business life more prestigious and make you feel special are thought to the finest detail. Seminars and conference halls for private and corporate events, cocktail parties, private dinners or press conferences, different sized meeting rooms, VIP lounge bar, activation rooms, floor gardens, fitness center, indoor and outdoor parking, modular office systems, charming Izmir Atertower with its scenery and 5-star service concept, the office life is not a box box, it is spacious and heartwarming ...
We look forward to discovering the privileged world of Atertower, rising in the stadium wing of Ankara Avenue in the very heart of the new trade center of Izmir.
Architectural reflection of efficiency!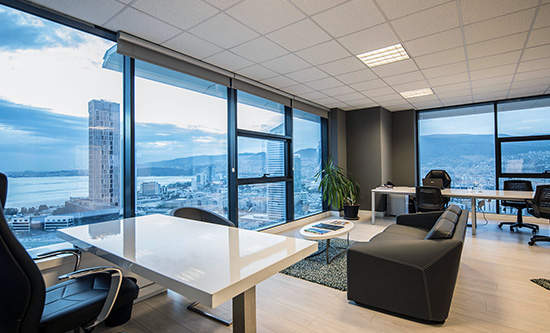 Atertower; distributes the light, gives you the chance to dominate the city with its magnificent shape. You can experience a unique view of Izmir from your office 24 hours a day.
Make a grand entrance to business life.
The unique designed lobby, special security technologies, large reception areas and luxurious equipment with a unique business life are waiting for you at Atertower.
Card and fingerprint access system
Professional building management
Waiting areas
Security and valet service on the ground floor
Special for those with high standards!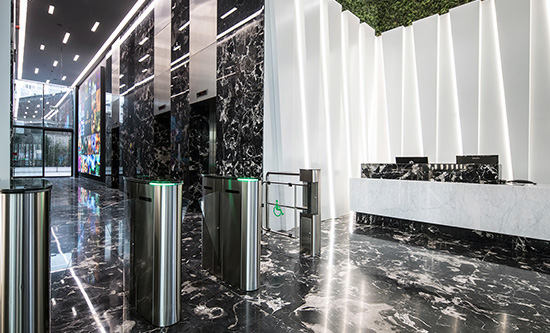 Atertower, which completely differentiates interiors with its human-centered design approach; It offers a combination of high ceilings and minimalist interiors with work and aesthetics in the entrance and lift halls.
Concierge Department
Boutique Food Court
Special System Office Doors
New seat of honor at your office, Sky Gardens.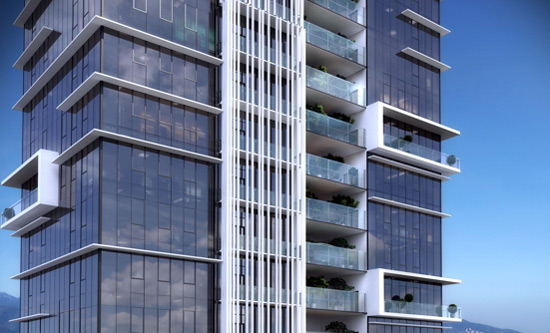 Atertower puts an end to today's boring, nerdy and monotonous office with breathtaking architecture and floor gardens.
You can enjoy the unique Izmir view of the sky, enjoy the sky, enjoy the business chats with your team or your guests in the Atertower with the floor gardens where you can always miss your business life, embrace the sky, amazing landscaping arrangements, and every floor of the green you can visit.
Building Specifications and Technical Informations
With the concierge package specially developed by Reanka Management for Atertower, you will be ready to live in your office and all common areas with 5-star comfort.
27 floor + 3 floor basement parking lot
106 meter length
Gross 3.68 meters ceiling height
3 floors of basement parking lot with total 4.215 m2 usage area
Auto access system with OGS
Carbon monoxide gas detector and warning system in parking lots
Central audible fire announcement and warning system
Maximum earthquake resistant with sun shading, panel profile applied glass facade system
%100 backed-up generator
Professional building management
Apartment cleaning service
Technical services
Car wash and detailing services
Card and fingerprint access system at reception
IP based special camera security system for monitoring all buildings and individual sections
24 hour security control and inspection service
Heating and cooling system with VRF meter
Reservation service for meeting rooms
Emergency and health assistance call support
Transfer and travel organization support
Landscape maintenance and arrangements
Common areas and exterior cleaning
Common areas technical maintenance and support
Valet service
Car rental service
Consulting services ( Accounting, Legal, Brand consultancy )